BANDKNIFE LOOP SPLITTING MACHINE (VACUUM CONVEYOR TYPE WITH JOINER)
SM-690T
APPLICATION:
EVA, PE, RUBBER, SBR, NBR, CR, EPDM,etc.Splitting.
Function:
* Loop splitting operation
Operation Mode: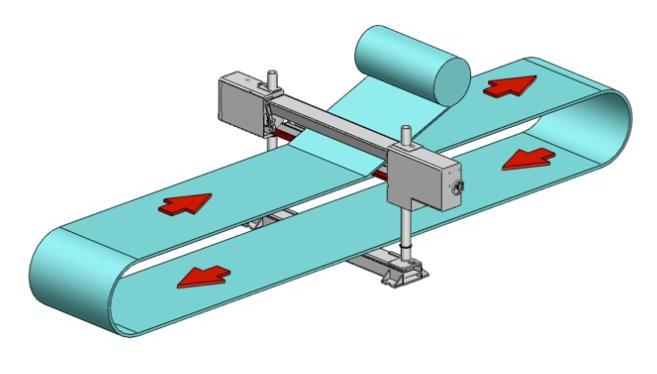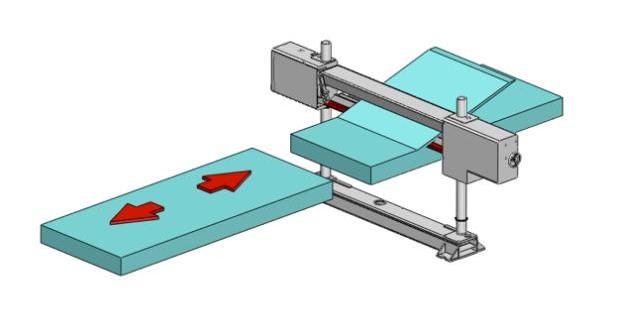 Characteristics:
* With welding device can join EVA or PE into a roll for loop splitting.
Splitting and collecting in one. Not like traditional production lines that need several small machines to work together.
*Automatically adjusting of thickness every splitting is controlled by PLC. Only leave 3 mm on the table. Save more labor than traditional Loop splitting. (transfer and collect roller time)
*Block is automatically balanced and re-located by PLC, don't need people to fixate the material while the block is lost balance.
*Only need one person for operation, save labor. (Traditional production lines need 3~4 people)
FEATURES:
* Friendly PLC inter-face, computer touch screen. Easy to operate.
* Thickness controlled and re-located by PLC.
* The position of blade controlled and re-located by PLC.
* Raw material sheet is aligned and re-located by PLC.
* Multiple functions:
1. Single Sheet Splitting.
2. Loop Splitting.
* Automatic sliced piece counting function.
* Automatic sliced length counting function.
* Dusty collector for blade sharpener.
Specifications
Description
Video
Layout
Consumables
Max. Block Width
1300 / 1600
mm
Knife wheel diameter
600
mm
Knife width
60
mm
Thickness Setting Accurance
0.01
mm
Knife Thickness
1
mm
Counting Function
YES
 
Knife Length
8380 / 9000
mm
Grinding Dust Exhausting Device
YES
 
PLC
Mitsubishi
FX-3U
Grinding dust vacuum motor
1.5HP 2P
 
Touch Panel
ProFace
GP-4502W
Knife sharpening motor
1HP 4P x 2pcs
 
Driving Inverter
TECO
Yasukawa
 
Thickness Auto Adjusting
YES
PLC Controlled
Driving Motors
TECO
Fukuta
 
Cutting head Up/Down
2HP
Fukuta
Cutting Structure Foam
Casting Steel
 
Head Up/Down reducer
TDVM2
Sumitomo
Foam FWD Speed
Up to 50
m/min
Knife Edge Position
YES
PLC Controlled
Foam BWD Speed
Up to 70
m/min
Knife position motor
1/8 HP
Li-Ming
Final Layer
3
mm +-0.5mm
Press Roller
YES
 
Splitting Hardness
3~60
degree
(Shore C)
Press Roller Height Pos
YES
 
Min. Splitting Layer
0.2
mm
Foam Pass above Knife
50
mm
Splitting Tolerance
+/-0.05 or 1%
mm
Feeding roller motor
1 HP
Fukuta
Knife Beam
12
degree
Feeding roller motor reducer
TVM
Transycko
Knife speed
5.5
m/sec
@ 50Hz
Recipe Management
Yes
 
Knife driving motor
7.5HP 4P
 
 
 
Knife driven wheel
Cast Iron
Ductile iron
 
 
 
Foam Transfer Method
By Vacuum conveyor
Winding Roller Power
1
HP
Max. Block Height
120
mm
Jointing Machine Included
YES
SM-632
Total Power
36
HP
Triming Method
Heating knife trimming
Total Vacuum Power
7.5 X 2
HP
Jointing Method
Heating Knife Jointing
Vacuum Power
420
mmAq (mmWs)
Heating Knife Driving Motor
0.5
HP
Upper conveyor Power
5
HP
Push Jointing motor
0.25
HP
Lower conveyor Power
1
HP
Splitting Foam

EVA / PE / TPE…etc.
This model of automatic splitting machine has a welding device which can bond the first and last piece of EVA or PE into a loop for loops splitting.
Splitting and collecting in one. Not like traditional production lines that need several small machines to work together.
Automatically adjust of thickness while every loop completed is controlled by PLC. Only leaves 3mm on the table. Will save more labor than traditional loop splitting machine(feeding and changing roller's time).
Material Working Concept: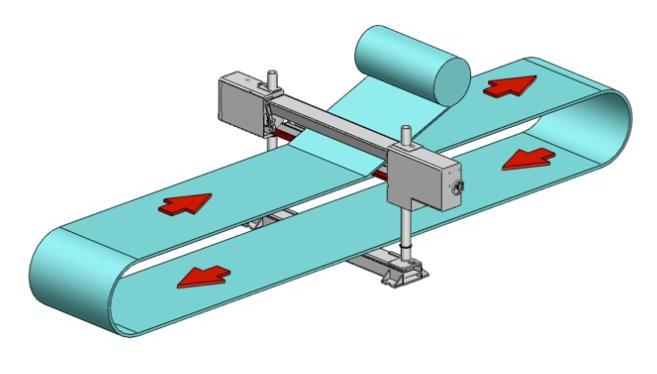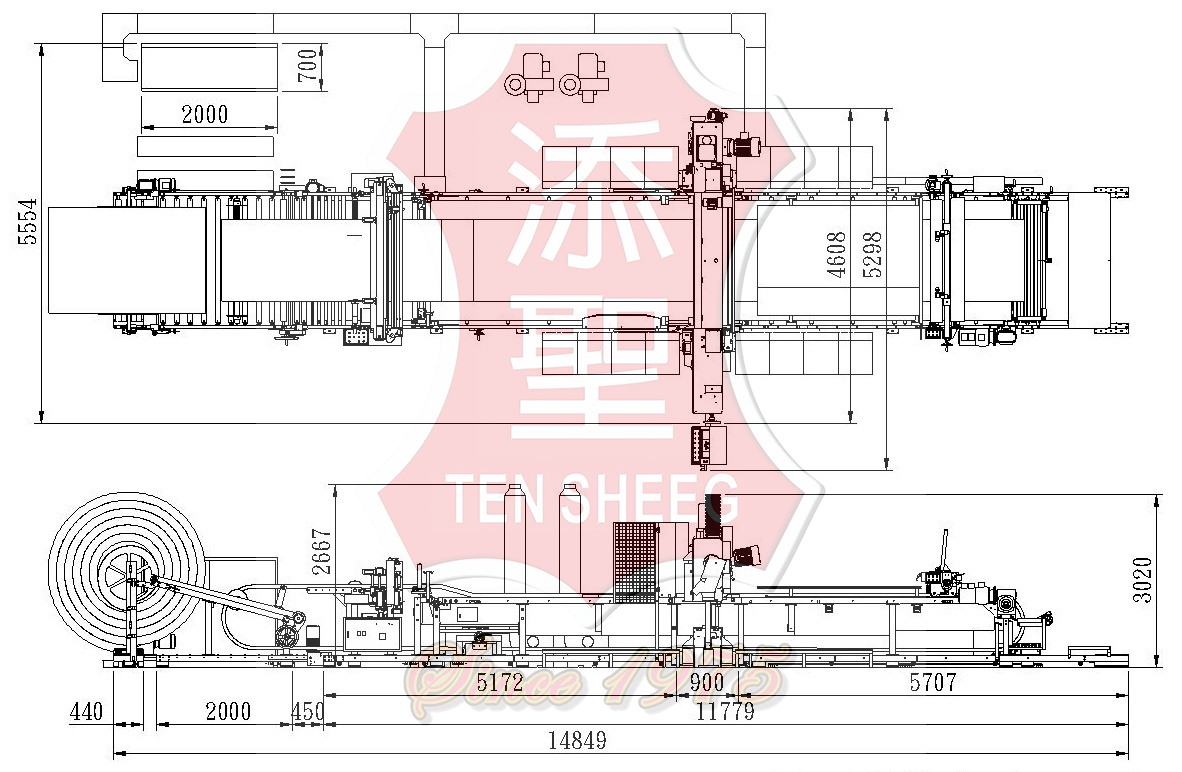 | | | |
| --- | --- | --- |
| Part No. | Name | Picture |
| 689E10 | Blade Table Pusher Set(For 1.6M) | |
| 689E100 | Band-knife | |
| 689F416 | GRINDSTONE | |
| 689F110 | Diamond dresser Set For Grinding Wheel | |
| 689E30 | Blade locator Pusher(Set) | |
Part No.
Description
Spare for one year
Unit
688J308
Sendor Knife edge
1
PCS
689F402
Blade lcated seat
1
PCS
EL0105
Sensor for knife limination position
2
SET
689F416
669D406
Knife Grinding Stone
4
PCS
689F110-1
Diamond dresser head
(Grinding stone cleaner)
4
PCS
689F110
669D501
Diamond dresser set
(Grinding Stone Cleaner whole set)
2
SET
689E104
Band-knife locator backsplash 1.6m
1
PCS
689e100
Knife 1mm X 60mmX 9000mm
10
PCS
689E102
Bottom band-knife fixed plate 1.6m
1
PCS
689E103
Upper band-knife fixed plate 1.6m
1
PCS
689E10
Band-knife position screw set
(Knife holder section)
6
SET
689E30
Band-knife position screw set
(Wheel holder section)
1
SET
689F40
Band-knife position screw set
(Grinding stone section)
1
SET
689A304
Encoder HTR-6C-1000-2-x180
Main Cutting head height
1
PCS
689G514
EHW-200 encoder
Feeding roller height
1
PCS
689C408
Knife Cleaning Blanket
2
PCS
689F403
Knife sharpening fixed plate
1
PCS